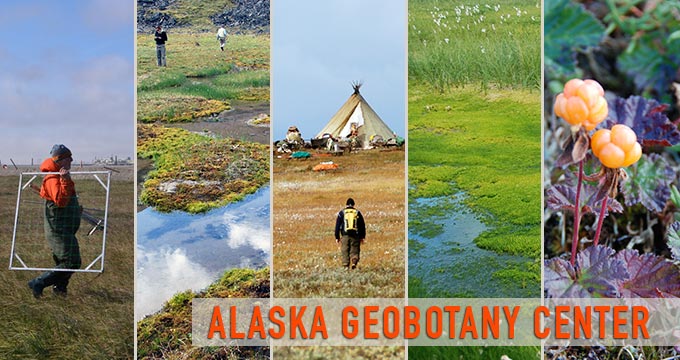 The mission of the Arctic Geobotany Center
Explore and understand Arctic geobotanical relationships and dynamics at local to global scales;
Investigate Arctic land-use and conservation issues through interdisciplinary collaboration;
Educate and train students in Arctic vegetation field skills and analysis;
Disseminate information about our research to educators, students, scientists and the general public.
Recent publications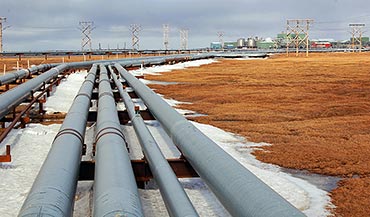 Landscape and Permafrost Changes in the Prudhoe Bay Oilfield: Nov 2014 - Forty-six years after the discovery of oil at Prudhoe Bay, we are still learning about the ecological consequences of large-scale infrastructure expansion and the impacts of climate change in ice-rich permafrost environments. The Alaska Geobotany Center's new publication documents the most recent assessment of the long-term effects of oilfield roads on landcover and permafrost. Read the report.
AGC Publication Series:
Walker, D.A., Raynolds, M.K., Buchhorn, M., Peirce, J.L. (eds.). 2014. Landscape and permafrost changes in the Prudhoe Bay Oilfield, Alaska. Alaska Geobotany Center Publication AGC 14-01: 84pp. University of Alaska Fairbanks, Fairbanks, AK.
Workshops:
Walker, D.A., Bay, C., Breen, A.L., Bültmann, H., Christiansen, T., Damgaard, C., Daniëls, F.J.A., Hennekens, S.M., Luoto, M., Pellisier, L., Peet, R.K., Schmidt, N.-M., Yoccoz, N.G., Wisz, M.S. 2013. Rescuing valuable Arctic vegetation data for biodiversity and ecosystem models: CBIO-NET—IAVD workshop, Roskilde, Denmark, 29-31 May 2012. Arctic. 68(1):133-138.
Environmental Research Letters, Focus Issue:
Focus on Dynamics of Arctic and Sub-Arctic Vegetation. Guest editors: Howard E. Epstein, University of Virginia; Donald (Skip) A. Walker, University of Alaska Fairbanks; Isla Myers-Smith, University of Alberta.
The articles in this collection were selected for their presentation of outstanding research, receipt of the highest praise from our international referees and the highest number of downloads last year.
Epstein, H.E., Raynolds, M.K., Walker, D.A., Bhatt, U.S., Tucker, C.J., Pinzon, J.E. 2012. Dynamics of aboveground phytomass of the circumpolar arctic tundra during the past three decades. Environmental Research Letters. 7:12
Walker, D.A., Epstein, H.E., Raynolds, M.K., Kuss, P., Kopecky, M.A., Frost, G.V., Daniëls, F.J.A., Leibman, M.O., Moskalenko, N.G., Matyshak, G.V., Khitun, O.V., Khomutov, A.V., Forbes, B.C., Bhatt, U.S., Kade, A.N., Vonlanthen, C.M., Tichy, L. 2012. Environment, vegetation and greenness (NDVI) along the North America and Eurasia Arctic transects. Environmental Research Letters. 7:(1).
Yu, Q., Epstein, H.E., Walker, D.A., Frost, G.V., Forbes, B. 2011. Modeling dynamics of tundra plant communities on the Yamal Peninsula, Russia, in response to climate change and grazing pressure. Environmental Research Letters. 6:(4).
Recent news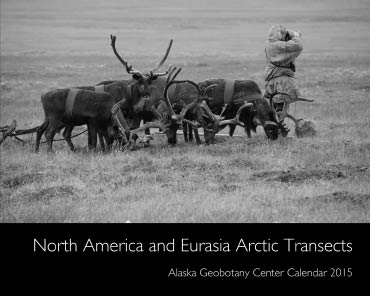 2015 Alaska Geobotany Center Calendar - Download (149 MB)
Learn more about The Changing Arctic, by watching this movie made for the University of Alaska Museum of the North (R. Topp, 2012).
Applied Vegetation Science Editor's Award: How do interactions between the physical environment and biotic properties of vegetation influence the formation of small patterned-ground features along the Arctic bioclimate gradient? An article by AGC director, Skip Walker, et al., analyzed plots in six locations along the Dalton Highway in arctic Alaska and three in Canada to answer this question. Their article, Vegetation of zonal patterned-ground ecosystems along the North American Arctic Transect, in Applied Vegetation Science (Vol. 14, Issue 4) received the Editor's Award. Read the enhanced article online.
ManTIS BRDF Observatory
AGC post-doctoral researcher Marcel Buchhorn's main research interests are the spectral characteristics as well as BRDF characteristics (Bidirectional Reflectance Distribution Function) of tundra vegetation communities along gradients. He developed the gonio-spectrometer 'ManTIS', for easy ground truthing of satellite measurements. The aim of the research is understanding the reflectance signatures of tundra biomes in order to develop hyperspectral vegetation indices for the EnMAP satellite mission.