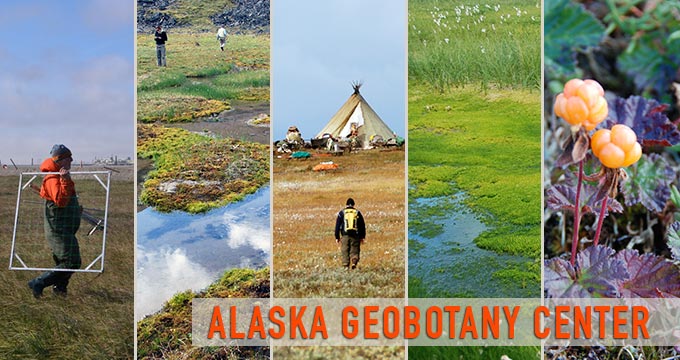 Mission of the Arctic Geobotany Center
Explore and understand Arctic geobotanical relationships and dynamics at local to global scales;
Investigate Arctic land-use and conservation issues through interdisciplinary collaboration;
Educate and train students in Arctic vegetation field skills and analysis;
Disseminate information about our research to educators, students, scientists and the general public.
Recent publications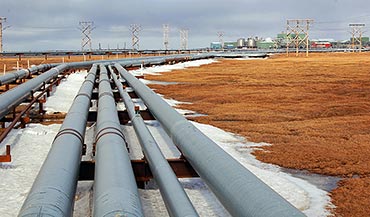 Landscape and Permafrost Changes in the Prudhoe Bay Oilfield: Nov 2014 - Forty-six years after the discovery of oil at Prudhoe Bay, we are still learning about the ecological consequences of large-scale infrastructure expansion and the impacts of climate change in ice-rich permafrost environments. The Alaska Geobotany Center's new publication documents the most recent assessment of the long-term effects of oilfield roads on landcover and permafrost. Read the report
Data from the 2014 Field Season: Infrastructure-Thermokarst-Soil-Vegetation Interactions at Lake Colleen Site A, Prudhoe Bay, Alaska. Read the report | Download data
Breen, A.L. et al. 2014. Ecology and Evolution of Plants in Arctic and Alpine Environments. In: N. Rajakaruna, R.S. Boyd and T.B. Harris, eds. Plant Ecology and Evolution in Harsh Environments. New York: Nova Science Publishers. pp. 149-178. (Read the chapter)
Bhatt, U.S. et al. 2014. Implications of Arctic Sea Ice Decline for the Earth System. Annual Review of Environment and Resources, Vol. 39: 57-89. (Supplemental Materials) doi:10.1146/annurev-environ-122012-094357. (Full text)
Epstein, H.E. et al. 2014. Tundra Greenness. In: Arctic Report Card 2014. (Go to NOAA site)
Recent news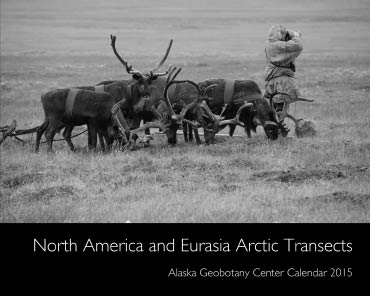 2015 Alaska Geobotany Center Calendar - High-resolution download (149 MB)
Recent Workshops: The Alaska Geobotany Center has sponsored a series of workshops related to the social-ecological consequences of climate change and resource development on the Yamal Peninsula, Russia and its relevance to the circumpolar Arctic as part of NASA's Land-cover Land-use Change (LCLUC) program.
RATIC Workshop at Arctic Change 2014 (8-12 December, Ottawa, Ontario). The combined effects of infrastructure and climate change have not received much interdisciplinary study. The Rapid Arctic Transitions due to Infrastructure and Climate (RATIC) initiative is a forum for developing and sharing new ideas and methods to facilitate best practices for assessing, responding to, and adaptively managing the cumulative effects of Arctic infrastructure and climate change. The initiative was developed by D. A. Walker and endorsed by the International Arctic Science Committee (IASC).
The ArcticBiomass Workshop held in Fairbanks in September 2014 focused on biomass estimation and monitoring from plot scale to satellite.